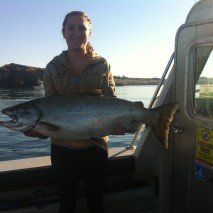 This family had the time of there life on board Highliner Charters in August of 2012.  Here's their testimony:
"It doesn't get much better than this. Captain Brett is professional, personable, and makes the entire experience a joy.  He served our country in the Navy, now serves others in this way and shares his passion for fishing with all ages, all skill levels.  And beyond that, 10% of their proceeds go to less fortunate people through Rice Bowl Ministries!  That's testament to the quality of individuals they are.  And the four gorgeous Chinooks are testament to the quality of their fishing prowess!    I HIGHLY recommend Highliner Charters!  Thanks Captain Brett! FISH ON!"
Seth,
Seattle WA
From yet another satisfied Highliner Charters guest from back in July of 2012: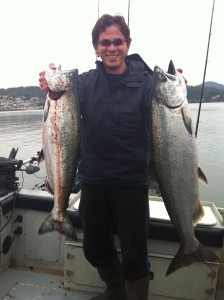 "What an amazing day of fishing! Captain Brett really knows his stuff. He does things a little different than most, which is probably why he catches more than most! Brett knows the waters well, and more importantly he knows the fish! Knowing what the fish will bite, and when they go on the bite, is perhaps the most important skill a charter captain can have, more so up in the islands where currents can be very strong. Captain Brett has both down to a science. We limited the boat out and went back early. Simply amazing! I will surely be back next year!"
Herb G,
Mukilteo, WA
Read on and learn how more of our customers felt about their experience aboard Highliner Charters:
My dad booked the charter with Brett, and Austin was our captain.  Austin did a great job putting us on the fish as we had nine hooked up over the eight-hour trip.  We kept four (two were too small to keep and three got off the hook before making it to the boat).  I would not hesitate to use these guys again, and will be passing their name around the office up here.  Austin was very personable and helped to keep things fun during the slow periods when fish weren't biting.  They were also very good to us when our original party of four got shaken up at the last minute due to an emergency work trip for one of our guys, giving us lots of options when we only gave them about three days notice.
John B.
Mount Vernon, WA
3/17/2013
Great trip. I have fished these waters for most of my life. Brett did an awesome job of putting us on fish and going to places that others in the fishing fleet who charter would be hesitant about going to; Deception Pass. From someone who fishes the pass, I know how difficult it can be to fish inside the pass. Brett made it look easy. Hooked up with several fish and lost quite a few, probably our limit or more. We then went outside to Eagle point and trolled for some Kings and Silvers. The weather was great and my brother-in-law and I had a good time as the pace was a little slower out at Eagle Point than in the pass. We talked and joked around, but even throughout all the talking and joking around Brett kept us fishing and fishing hard. Finally, had to call it a day and head to town. Brett was exhausted and we knew from looking at him that we had worked that day as hard as one could getting us on the fish and trying to fill the box. Lastly, great boat and again as someone who fishes around here I was really impressed with equipment that he used. Everything was designed for fishing and getting fish in the box. Great day! I would highly recommend this charter company to anyone who plans a trip to the San Juan's to go fishing.

John
La Conner
John P.
La Conner, WA
10/1/2012
Great day of fishing as usual with Highliner Charters!  Captain Brett has done it again, he took myself and 3 friends out for Salmon and it was almost non stop from beginning to end!  We at one point had 3 fish on at the same time, and it was intense to say the least.  We had limited out within 2 hours with 10 fish.  We were ecstatic!  If you're looking for a friendly group of guys that will guarantee you fish, I would highly recommend Highliner Charters, You will not be disappointed.  Thanks again Brett for another outstanding trip.
Stephen G.
Oak Harbor, WA
9/16/2012
We had the best time! Brett is very informed about the area, we caught some pretty King Salmon, went to scenic Deception Bridge & fished for Coho and on the way back to docks… we hauled in the crab pots we had set out (complete w/smelly fish head from my freezer from last summer) and had so many…. we had to put back what we couldn't use. That evening we had a very delicious meal….. freshest seafood I've ever had.  
I would defninitly HIGHLY recommend Brett & all of his crew for a GREAT time. He has all the equipment & knowledge so you can enjoy yourself and it doesn't hurt that he's a really nice guy too.
Loyce H.
Bellingham, WA
8/27/2012
Three of us boarded Capt. Brett's boat early on July 3rd and within a few hours all of us had limited out on King Salmon.

 Can't say enough about Brett and his attention to detail and dedication in  providing a good time and fish for his clients.  He took care of the cleaning too!

Wouldn't use anyone else in the San juan Islands.

G.L.
Graeme L.
San Marino, CA
7/18/2012
What a great trip Raymond met us a store and guided us into the Marina then proceeded to get us out safely in some pretty nasty fog. The boat is nice and there is lots of room for 4-5 people. Another positive is that there is heat inside the cabin. On a cool day that is nice. Also on our trip when the fog did lift we saw 2 Salmon caught and one was on our boat. Ray then took us and put on some rock fish. Of course we couldn't keep the Lingcod and Spinebacks, but we did get a Grenling (sp?) and a Cabazon (Sp?)… As a Veteran I would also recommend Highliner as it is a Veteran Owned Business and Veterans receive a discount as well. Finally the amout of time for the charter 8 hours… In Michigan Salmon charters are usually 4 hours.  Thanks again to Brett, and especially Raymond for giving us a lifetime of memories. If I get back here I will be using them again… 🙂
Bruce D.
West Branch, MI
7/13/2012
Yesterday was my second trip out with Highliner Charters and once again had a phenomenal time! Captain Brett is a true professional, who doesn't just know how to fish, but is very courteous and goes out of his way to make sure you have an outstanding time! I would HIGHLY RECOMMEND him to anybody looking for a quality fishing trip. He supplies everything you need, and even better the price is completely reasonable! THANKS so much for the AWESOME trip Brett!!!
Drew K.
Oak Harbor, WA

5/11/2012
Absolute Blast of a time, had fish on the boat within the first 45 minutes of being out.
Captain Brett is very helpful and attentive to the needs of his customers.  Quality gear  and a comfortable boat made for a memorable experience.  Fishing was great and the scenery in the San Juan Islands is beautiful.  I would highly recommend this charter to anyone and I plan to go again!
George A.
Anacortes, WA

4/12/2012